Welcome to our weekly All Canadian Link Up! This weekend and every weekend, Canucks Rock! with our All Canadian Link Up and Candid Canuck feature interview. Brought to you by your hosts:
Did you know Canada?
,
Tales of a Ranting Ginger
and
Maple Leaf Mommy
!
This week's Candid Canuck is Kerrie from
Family Food and Travel
. Check out our interview with her..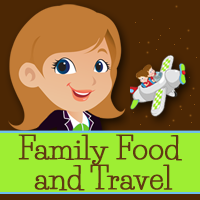 What inspired you to start your blog and where do you see it going in the future?
I started my blog out of a desire to have a consistent outlet to write. I love writing, and don't have enough time to do it in my day job. I also felt I had stories to tell and experiences to share. My family loves travel and food so it made sense to feature those on my blog.
I dream of my blog being a place that people come to for specific travel reviews/advice. A place where people laugh alongside our parenting missteps and a place where food is celebrated, and enjoyed. I would also love to work with other bloggers on a collaborative site, one that showcases our talents and brings them together.
How did your passion for travel develop?
My parents taught me that stepping outside of your comfort zone was so important for growth and development. While most of our travel as a family was road trips, each one reinforced how much fun travel was. But, honestly, I have always had a deep desire to travel to all corners of the world. To experience new cultures, foods, and places.
What is the craziest thing that has happened to you or your family while travelling?
There are so many! I think the one that I still cannot believe happened was an experience I had in Kenya.
While on a trip there I went to use the washroom. Once seated I realized there was a snake curled up sleeping in the corner. Telling myself that loud noises and my fear would wake it I decided to quietly tip toe out of there. As I was leaving it lifted its head and looked at me. I think at that moment I was the most scared I have ever been.
I got out, and found the guard that was nearby and explained as best I could that there was a snake there. He instructed me to stand back, he drew his machete and entered the bathroom. I heard the swoosh of the blade. Then, the guard emerged smiling holding the chopped in half snake over his head - one piece in each hand. Then, he said "Black Mamba, bad, very very bad, have a nice day"
Yep. I was in the bathroom with a snake that's bite is 100 percent fatal. Crazy.
You post about your twin boys often on your blog. Tell us something about life with twins. What do you want other non-twin parents to know?
Twins are the most wonderful gift but also a trying, exhausting and overwhelming experience. Parents of multiples have higher rates of divorce, and depression and I honestly believe it. Multiples are stressful, from raising them, to paying for two of everything, it's tough. It's a hard go for that first year, but having twin three year olds is challenging in a whole other way.
That said, raising twins is such an amazing experience. Watching two people grow up together as best friends (and sometimes partners in crime) is amazing. I am in awe of my boys every single day. Their bond, their understanding of each other and the fun they have together. They are a true miracle. 99.9% of the time I feel like the luckiest woman in world :)
I would want other non-twins to know that if they known anyone having multiples to rush over to their house with food, a desire to hold babies and clean their house. They need all the help they can get!
If you could travel anywhere within Canada where would it be? Who would you go with and why?
I would love to do a trip to PEI and Newfoundland - those are two places that I have never been and always wanted to. I'd either like to make it a girls adventure with some close friends or with my family (if my boys were a bit older).
What stereotype about Canadians drives you nuts? Our readers want to know :)
That we always say sorry for everything. Ooops, sorry, I hope I didn't offend anyone!
What is your must have travel item for families?
Beside a passport - my must have travel item is a sense of adventure, and patience. Without those two you will never be able to tackle the many things that could (and often do) happen when travelling.
Thanks so much Kerrie!
Want to be one of our featured Canucks? Sign up
here
.
Right now, link up your Canadian blog and social media accounts, find some new reads and new friends!
Click here to grab this linky for your site!