Did you know Canada.. the UN has declared 2011 as the International Year of the Forests!
This is us opportunity to reflect on the intrinsic link between healthy forests and our own prosperity. As we
noted back in February
Canada has 10% of the world's forests and 42 National Parks. Also, Canada's boreal forest is the world's largest intact forest.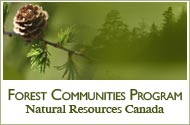 We also have The Canadian Model Forest Network (CMFN) - the CMFN collects information and knowledge to create tools for forest communities. This helps support and maintains the livelihoods of people living in Canadian forests.
Nature Canada is also reaffirming its commitment to protecting forests in Canada. Including making significant progress to adequately represent all Canadian forest regions by forming a network of interconnected parks and other protected areas which includes at least 50% of the Boreal Forest.
Source: United Nations, National Geographic, Canadian Model Forest Network, Nature Canada