Did you know Canada.. we have more updates from blogger
Trina Stewart
as she continues to write about the sights and sounds from this years TIFF...
If the 2011 Toronto international Film Festival's main goal was the thwart the crowds and confuse them to know end, well they accomplished this task.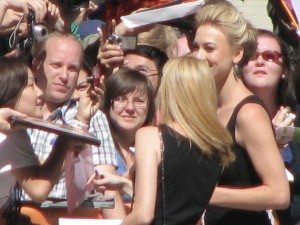 Celebrity stalkers from far and wide, were dazed and confused wondering where to find their fave celebrities this year. I have been going for over four years now, and would I spend $400.00 for two nights + all the overhead to attend this event again for celebrity stalking purposes? Highly improbable unless I also purchased a TIFF movie package (which I intend to do in the upcoming years) or I was making money off of TIFF event.
When we arrived, we parked at the Interncontinental Hotel on Bloor. As we climbed the stairs, we anticipated the velvet barriers and familiar faces from last year. Instead, we seen nothing. The press conferences were not taking place at this venue.
"That's fine kids, let's go over to Yorkville.", I said to my two teenager entourages.
Going there was truly a gift, as we were fortunate enough to meet Bono leaving the Hazelton Hotel. Aside, from that we seen nothing for the whole afternoon. We didn't see the familiar paparazzis, and quickly agreed that we were in the wrong place.
I was quite pleased on Friday night that I had prior commitments with a few tweeps, because if I didn't have plans, I would have been thoroughly angry.
Anyway, to make a rag fest short, this festival is all about films and talent and not about the fans. It's just too bad that the only steadfast venue to quickly view a celeb is at the Gala events. I have never attended a Red Carpet simply because the regular folks are cruel, pushy, and mean. However, my daughter did and it resulted with her being punched in the face and her hair pulled to get a shot of Robert De Niro.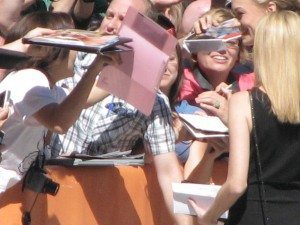 Nope, I will not do it again for this sole purpose. I'm calling a spade a spade, I do not make money off of my hobby, therefore, this year was fruitless without the sore feet, major fatigue, and happy faces upon our return home.
Check out
@CANADAGRAPHS
, you will see that I'm not the only one filled with disappointment. This event started off as a celeb fest, but it also created friendships, sharing of photos and autographs, and camaraderie. There was no pulling of hair or punching of faces.
There are many positives that took place this year at the Toronto Film Festival and I will share on further blog posts.
Sarah Polley has quickly become one my favorite director's after viewing the witty drama about desire, Take This Waltz.
First and foremost, Thanks L'Oreal Canada for giving me this opportunity to attend this Gala Premier at the Toronto Film Festival.

In the Movie, Take This Waltz, Margo is at a crossroads in her five-year marriage to Lou when she meets Daniel, while writing and designing a new brochure for Parks Canada in Nova Scotia. Margo's desire for the affection of Daniel stimulates the excitement that she lacks from everyday life.
Polley's metaphor to desire as being similar to a ride at the fair when the everyday lights are dimmed and the shimmer of the disco ball and music takes us into a different existence for a few short minutes, was pure genius. The scene somewhat confused me until the lights went on.
Seth Rogan's dramatic performance of Lou was sensational. He brought the typical day-to-day comedic edge to life along with his sister, Geraldine, played by Sarah Silverman. I also enjoyed how Geraldine's struggles, although different, was parallel to Margo's struggles of romantic desire.
Michelle Williams was perfect for the role of Margo, with her sweet "can do know wrong" appearance, only proving that anyone struck with desire can.
I have never seen Luke Kirby, previous to this role. I can only expect that this actor will achieve rave reviews on his performance.
I love this new style of story telling as not only do you leave the movie a bit confused and with a lot of questions, but the movie stays on your mind until you figure it out by looking at real life instances that correlate with the movie's story-line and metaphors.
Bravo to the Cast and Crew of Take this Waltz.
PS. My Pictures are Horrible. My dear daughter had the best camera.