Did you know Canada.. with busy boys in baseball this summer and every sport you can imagine at the park on the weekends, my kids (and their clothes!) are dirty!
We all know grass stains are the WORST, let alone mud and sweat, getting the sports clothes clean is no easy task! This past week I've been trying OxiClean MaxForce Spray and OxiClean MaxForce Pure Whites Laundry Stain Fighter & Booster and WOW!! So far I've gotten old stains out, marks from the spray sunscreen, grass stains and food stains. Ever did a little dance in the laundry room before?? I have!!! Saving clothes means saving money!
Here's how it works:
OxiClean® MaxForce® Spray
combines four types of stain fighters to help get out more of the toughest, dried-in stains the first time including: Grass and blood, Chocolate, BBQ sauce, Gravy, Grease and oil, Food stains, and Soil and clay. Pre-Treat for Success! Remove as much of the excess stain as possible then spray directly onto the spot or stain until saturated, rub into fabric and let stand for five to ten minutes depending on the severity of the stain, wash with detergent in the warmest water the fabric will accept and try adding an in-wash OxiClean® MaxForce® product to boost detergent's cleaning performance and for more brightening and whitening power!
With an SRP of only $4.99 and available at retailers across Canada you can be covered for the summer for less than a price of a shirt!
Canadians are also using
OxiClean® MaxForce® Pure Whites
in the laundry to help keep socks, towels and t-shirts looking their whitest! The new technology of OxiClean® MaxForce® Pure Whites Liquid Laundry Stain Fighter & Booster is gentle on whites and allows clothes to look fresh
for longer, is safe to use in High Efficiency and Standard Machine and gets clothes up to 50 per cent whiter!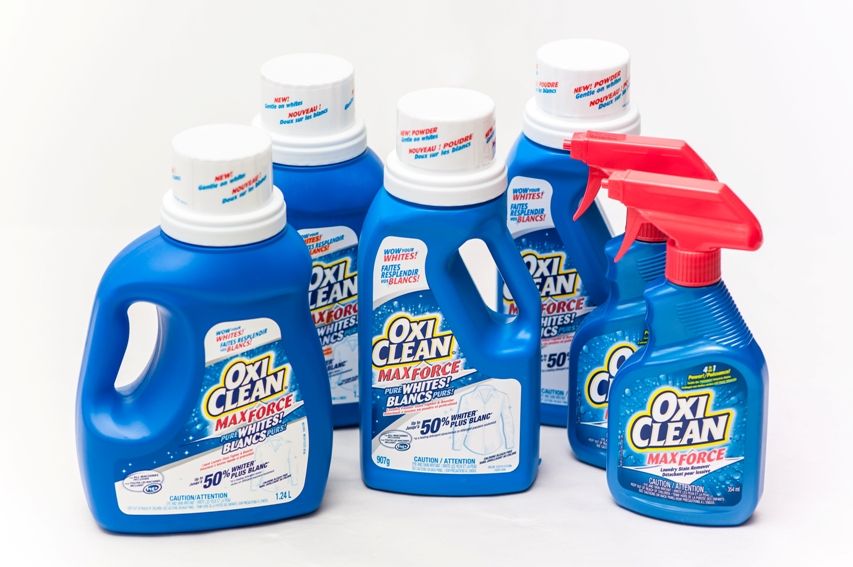 What to see these amazing results for yourself? Enter below for your chance to win an awesome OxiClean prize pack Canada!!
Giveaway
a Rafflecopter giveaway