Did you know Canada..
ONS GEAR
is THE Innovative Children's Company. Proud parentpreneurs, Michael and Crystal are dedicated to making children's and parents' lives easier, one innovative product at a time. One of our favourite products it their original innovative product -
MITT-ONS
. Check our 2011 Holiday Gift Guide soon for a feature on MITTS-ONS and why they would make the PERFECT gift.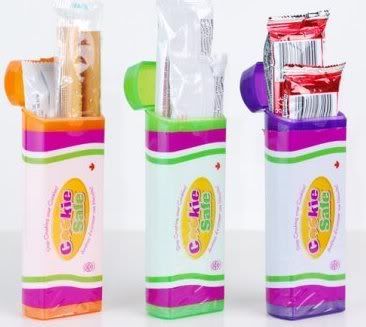 For our upcoming Twitter Party one lucky party goer will be winning 2 packs of
Cookie Safes
from their amazing
INNO SHOP
!
This Made in Canada product is specially designed to hold the most popular brands of pre-wrapped single serving rice rusks, bars, cookies, crackers, etc. Created to take up as little space as possible in your bag, while helping to ensure that when you want to offer your little one a snack, you can actually give them one and not crumbs! Love it!! Why did I not have this when my boys were eating rice rusks two years ago?!
Visit ONS GEAR INNO SHOP for more awesome innovations that will leaving you saying
"Ah, that's so smart! Why didn't I think of that?"
See you Wednesday for the
Twitter Party
- make sure you RSVP!!